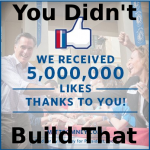 Bobby Calvan of the Boston Globe interviewed me this afternoon and wrote an excellent story on the Romney Facebook Hacking phenomenon. Hopefully this will bring out more information!
Visit Mitt Romney's page on Facebook and you'll see 11.6 million "likes." Lee Wolf, a self-described liberal who likes nothing about Romney's politics, was stunned to hear from friends on the online social network that his name had popped up as an apparent supporter of the Republican presidential candidate.

"I don't believe in anything he says. He's not somebody I'd be voting for," said Wolf, who owns the Lobster Shanty, a restaurant in downtown Salem. "I'm still wondering how it happened."

Others are wondering, too.