I didn't watch the Superbowl yesterday because professional football kind of bores me. Last night's blowout of Denver by Seattle makes my choice seem justified. Plus, what does it say when all anyone wants to talk about is the Super Bowl TV commercials?
Apparently Coca-cola struck a nerve in some when they had the audacity to air a commercial with brown-skinned people singing America the Beautiful. Yes, even this patriotic song by Katherine Lee Bates and Samuel A. Ward is causing some conservatives to flip out. Why? Who the hell knows?
I've been seeing responses on the Desert Storm Veterans Facebook page that just make me want to smack my head.
Here's one pic from Facebook that's been making the rounds: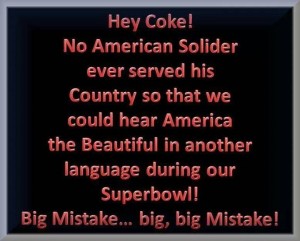 Continue reading →