At the start of the pandemic, I read a suggestion from a nurse that having a pulse oximeter would be a good idea. I've also had issues sleeping for some years including mild (and some not-so-mild) sleep apnea so I figured it might be good to document these. I bought a model which can be worn comfortably overnight and track the full night's sleep, the Wellue/ViaTom SleepU P03.
The data it's shown me is alarming. I have been having apnea events almost every night, some of these lasting long enough to dramatically drop my oxygen saturation. I'd been wondering why I'd suddenly find myself wide awake at 3 AM. Now I know it's because I'd stopped breathing and my body struggled itself awake.
Though I've collected months of graphs showing a problem, I've not been successful demonstrating this during the VA sleep studies I've had done. I don't do this every night but it happens with enough frequency that it makes it hard for me to feel rested in the morning. I'm hopeful that a future study will open the door to some treatment. A good night's sleep is a fantastic gift.
Along my sleep apnea journey, I found the excellent OSCAR app, an open-source data visualization tool that gathers data from CPAP machines and pulse oximeters like mine.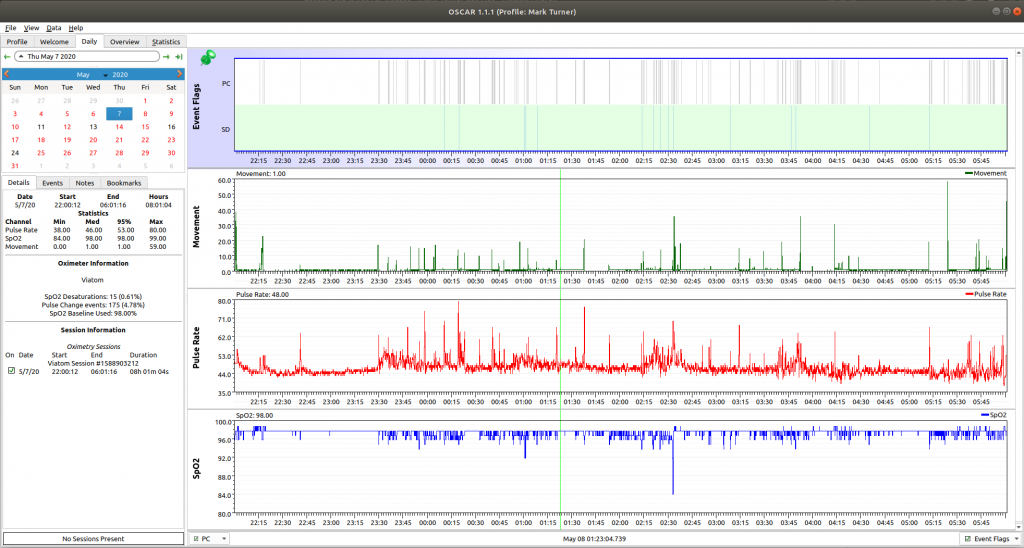 Getting old is not for wusses.