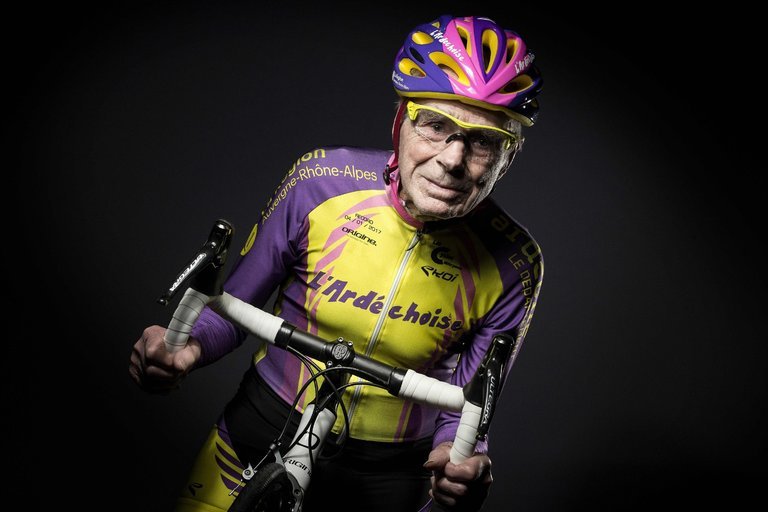 Monsieur Marchand is my new hero.
At the age of 105, the French amateur cyclist and world-record holder Robert Marchand is more aerobically fit than most 50-year-olds — and appears to be getting even fitter as he ages, according to a revelatory new study of his physiology.

The study, which appeared in December in The Journal of Applied Physiology, may help to rewrite scientific expectations of how our bodies age and what is possible for any of us athletically, no matter how old we are.Many people first heard of Mr. Marchand last month, when he set a world record in one-hour cycling, an event in which someone rides as many miles as possible on an indoor track in 60 minutes.

Mr. Marchand pedaled more than 14 miles, setting a global benchmark for cyclists age 105 and older. That classification had to be created specifically to accommodate him. No one his age previously had attempted the record.

Mr. Marchand, who was born in 1911, already owned the one-hour record for riders age 100 and older, which he had set in 2012.

It was as he prepared for that ride that he came to the attention of Veronique Billat, a professor of exercise science at the University of Evry-Val d'Essonne in France. At her lab, Dr. Billat and her colleagues study and train many professional and recreational athletes.


She was particularly interested in Mr. Marchand's workout program and whether altering it might augment his endurance and increase his speed.

Conventional wisdom in exercise science suggests that it is very difficult to significantly add to aerobic fitness after middle age. In general, VO2 max, a measure of how well our bodies can use oxygen and the most widely accepted scientific indicator of fitness, begins to decline after about age 50, even if we frequently exercise.

But Dr. Billat had found that if older athletes exercised intensely, they could increase their VO2 max. She had never tested this method on a centenarian, however.
Source: Lessons on Aging Well, From a 105-Year-Old Cyclist – The New York Times