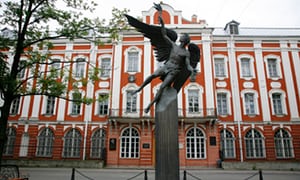 Surprise! Russian-born Cambridge professor Aleksandr Kogan has ties to St. Petersburg and did work for the Russian oil firm Lukoil (if not others). He claims he's just a scapegoat but he certainly is looking more and more like a key player in Russian election meddling.
I wonder how North Carolina Senator Thom Tillis feels about getting elected with potentially Russian help?
Aleksandr Kogan, the Cambridge University academic who orchestrated the harvesting of Facebook data, had previously unreported ties to a Russian university, including a teaching position and grants for research into the social media network, the Observer has discovered. Cambridge Analytica, the data firm he worked with – which funded the project to turn tens of millions of Facebook profiles into a unique political weapon – also attracted interest from a key Russian firm with links to the Kremlin.Energy firm Lukoil, which is now on the US sanctions list and has been used as a vehicle of government influence, saw a presentation on the firm's work in 2014. It began with a focus on voter suppression in Nigeria, and Cambridge Analytica also discussed "micro-targeting" individuals on social media during elections.The revelations come at a time of intense US scrutiny of Russian meddling in the 2016 US presidential election, with 13 Russians criminally charged last month with interfering to help Donald Trump.

In Britain, concerns about Russian propaganda have been mounting, with the prime minister, Theresa May, recently attacking Russia for spreading fake news, accusing Moscow of attempts to "weaponise information" and influence polls.

Lukoil, Russia's second-largest oil company, discussed with Cambridge Analytica the data company's powerful social media marketing system, which was already being deployed for Republican Ted Cruz in the US presidential primaries and was later used to back Brexit and Trump.
Source: Cambridge Analytica: links to Moscow oil firm and St Petersburg university | News | The Guardian