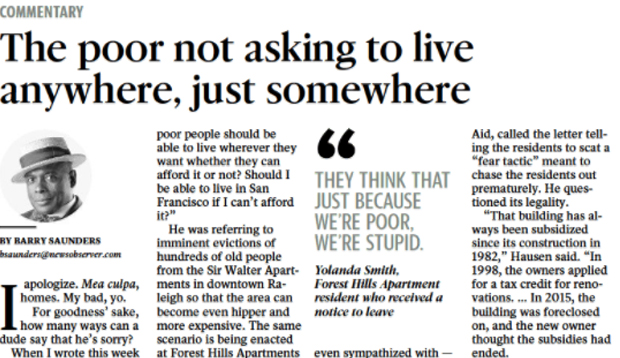 There's turmoil at the News and Observer, with columnist Barry Saunders getting shown the door last week. I didn't always agree with Barry but I enjoyed reading his columns. He was one of the outsized personalities that give the hometown paper real flavor and his loss is devastating to the N&O in my opinion. I've long said that there were two main reasons I kept subscribing to the N&O: Joe Miller's Take It Outside column and Barry Saunders' column. Now both are gone.
At a time when newspapers around the country are demonstrating their value in holding the powerful accountable, McClatchy seems to be going in the opposite direction. It's sad, because it doesn't have to be this way.
Some say the N&O is all about "generating clicks" nowadays, and reporters are being pushed to produce clickable content. As someone else said, reading social media is like reading the National Enquirer. Is this really the direction a media company wants to go?
I miss the days when the News and Observer was fully in the game. We need good journalism now more than ever.
As The McClatchy Company's reinvention initiative continues to roll out at The News & Observer, changes are ongoing.Reporters met with editors in recent days to discuss how the initiative relates to their job and what changes may be coming for their roles. Others are finding out that they have lost their jobs.

The most prominent change, revealed in this story, is the departure after 24 years of columnist Barry Saunders, 59. According to multiple sources, the move wasn't his decision. Saunders didn't respond to a voicemail message.

But during an appearance Saturday night on WRAL-TV's public-affairs program "On the Record," he confirmed that he was forced out.

"I can tell you that that decision was made above my pay grade," Saunders said on the show, which was taped Friday. "I was told that they were saying goodbye. Remember the old Manhattans song, 'we called you here today for a bit of bad news'? I was just told my services were no longer needed there."
Source: Media notes: Sanders says N&O told him 'goodbye' and that his 'services were no longer needed' – Raleigh & Company