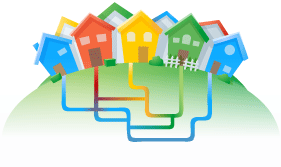 Also around February, Raleigh got the official word from Google that Google Fiber was coming to the Triangle.
This announcement was really exciting to me after doing what I could over the years to promote broadband competition in North Carolina. For years I maintained the "Bring Google Fiber to Raleigh" Facebook page, posting updates when I got them. I met with city and state officials to keep up with their broadband plans (NC NGN). I took time off of work to attend the Google Fiber announcement and schmoozed with Google Fiber executives at an invitation-only community meet-and-greet.
I was hoping to become a part of the Google Fiber team here but it was not to be. It would've been one hell of a gig, so to speak: promoting something I am passionate about and putting to use all the people and political skills I've honed over the years. Google had their own ideas of what they wanted, though, and I was super bummed to miss out on the opportunity. It's probably for the better, in hindsight. I can honestly say that Google hit a home run with the hire of Tia MacLauren as its Raleigh Community Manager, and I am getting crankier in my old age and thus more apt to say what I'm thinking!
Google Fiber trucks haven't begun rolling in earnest around Raleigh yet but they soon will. No matter what, though, broadband competition has finally come to North Carolina's cities, and this in itself is a beautiful thing.