Did you know Raleigh once had its own NASCAR track? It's true, though you'd never know it today. The site is now a quiet industrial park that sits next to an equally quiet neighborhood north of the Raleigh Beltline. Back in the 1950s, though, the air was filled with smoke and the sound of revving engines at this track once located a mile outside the city limits.
Raleigh Speedway opened in 1952 as the Southland Speedway (or the Dixie Speedway), when it hosted an IndyCar event. It went on to host major NASCAR events, including Grand National events every Fourth of July. Raleigh Speedway was notable in that it was the first track NASCAR sanctioned for night races.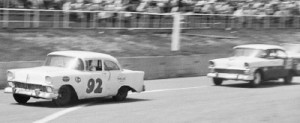 Races continued until 1959, when Daytona International Speedway opened. Raleigh Speedway (as it was known from 1953 on) closed that same year due to noise complaints from the neighbors. It sat dormant for another 8 years, during which the track was divided to keep trespassing drivers off of it.
The track was demolished in 1967 and an industrial park was built on the site. Little if any trace remains of the track. It was located just north of what is now the Beltline, west of Atlantic Avenue, and east of Bush St. Wikipedia says about 90′ of the backstretch can be found hidden in the woods behind the Progress Energy substation on the site.
I found it fascinating to learn this track once existed and is now completely gone. It joins Isaac Hunter's Tavern, Raleigh Municipal Airport, and Devereaux Meadows ballpark in obscurity as one of Raleigh's forgotten landmarks. This is a recurring theme in Raleigh's history, sadly enough.
Now that NASCAR is the country's biggest spectator sport, with races drawing almost 200,000 fans, it's interesting to imagine what Raleigh might have been like if it had kept Raleigh Speedway.
And the noise that led to the track's closing? It was replaced a few years later by traffic noise from the Beltline when it was completed from Cary to Capital Boulevard. You could say that one racetrack got traded for another!
Learn more here.