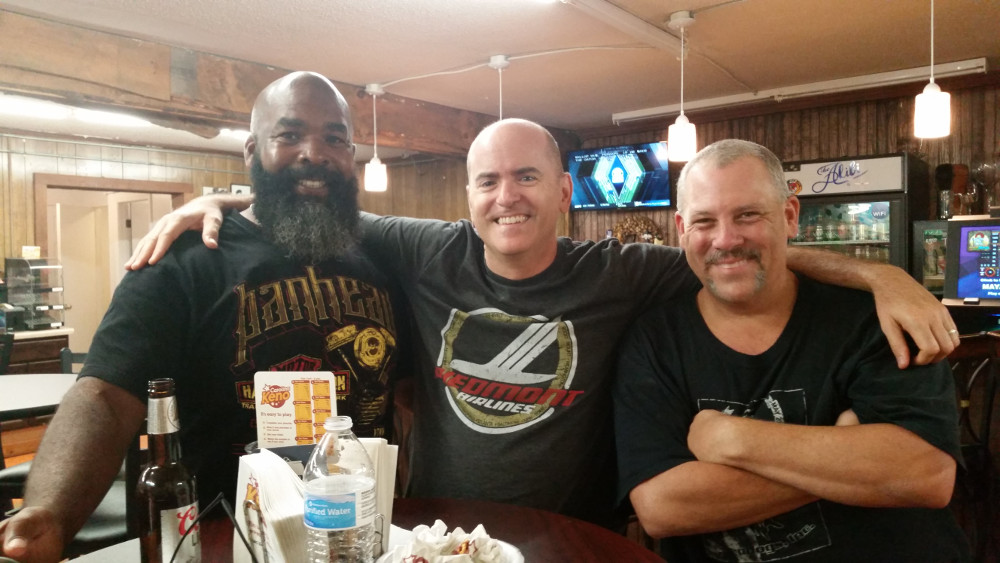 The wonders of Facebook has connected me with new friends and reconnected me with old. It has allowed me to connect with people I would've given up for "lost" just ten years ago. I have been especially happy to rekindle friendships made while I served in the U.S. Navy aboard USS Elliot DD-967. There is nothing like the bond built by shipmates, forged in the unforgiving environment of the sea.
My shipmates are family, and like families everywhere we may have our differences but there's no denying that bond. This brings me to my friend Robert P. Nordman.
Nordman, as I called him, joined Elliot about the time I did. He was trained as a Gas Turbine Systems Electrician Fireman (GSEFN) – an engineer or "snipe" as they're proudly known. Nordman and I worked on completely different levels of the ship, him workspace being the engine room and mine the topmost deck of the ship. Still, I would joke with him on the messdecks, chat on the fantail during a break, or see him out on liberty. More often than not, though, Nordman would be late for liberty (or miss it altogether) because of the demands of his job. He would spend a lot of his liberty either preparing the ship to depart or preparing it to be in port.

Nordman's dedication caught the attention of our captain, CDR T.W. LaFleur, who said:
"Fireman Nordman is one of the technicians responsible for maintaining the electronics which keep the electrical and gas turbine plants operating. Despite only limited formal Navy schooling, GSEFN Nordman is always there working, learning, questioning and striving to keep the engineering plant at peak efficiency. Despite incredible long hours and often missing out on liberty in some of the best ports in our cruise, you never find Fireman Nordman without a smile. Whenever we need a volunteer for a special project or a sporting event, Fireman Nordman is there. He is proud of ELLIOT and his contributions."
Occasionally he would be the hero while underday. He liked to tell the tale of how the ship once lost power while underway, off the coast of the Philippines, I believe. The security alert team had locked down the ship's passageways in the event it had been sabotage (a by-the-book precaution). When the power went out, Nordman knew what happened and raced down the passageways to restart the generators. A foolish sailor named TM1 Gorden on the security team challenged him as he approached.
"Sswitchboard operator, make a hole!" Nordman bellowed but still he was blocked.
Petty Officer Gorden challenged him again and Nordman got even angrier. "SWITCHBOARD OPERATOR! MAKE A HOLE!"
Nordman barrelled into Gorden, knocking him off his feet, and raced aft to the generator space.
By that time, every officer and chief onboard converged on the generator room where they found Gorden standing in front of Nordman with a loaded shotgun, yelling at each other. At least Nordman had time to restart the generator.
"If you EVER get in the way of my switchboard operator again, I'll shoot YOU!" the captain screamed at the hapless guard. Nordman still laughed at it all these years later.
I became friends on Facebook with Rob in December 2010. We traded comments on each others posts from time to time, with him supporting a conservative view to my liberal one. Despite these differences in political outlooks we remained friends. After a spate of points and counterpoints in December 2015, I wrote an appreciation on his wall:
Though we may disagree sometimes, I do enjoy hearing your point of view, shipmate. Here's wishing you and yours a Merry Christmas!
He responded:
Merry Christmas and a safe and Happy New Year. I wish others could disagree respectfully. Vigorously is great. Debating is how we get to the best solution. Respect is rooted relationally and need to be the block we are all common with
So while I was one of his dirty hippie friends, I was without a doubt his friend. And he, mine.
Time marched on. Facebook was a stream of endless updates from others, both meaningful and meaningless. Somehow in the noise I missed Rob's post in April announcing his diagnosis of non-Hodgkin Lymphoma. He was in and out of Rex Hospital for treatment, chemotherapy and the like. His hair fell out, he grew weaker, yet he still found time to volunteer for the Battleship North Carolina in Wilmington.
He called me out of the blue one evening and we spoke for the first time in over two decades, telling me he was proud of how civically-minded I was, how he was proud of the kids he saw through my Facebook page, and how he respected me. It was great hearing from him, and though I thought it might be awkward speaking again to someone I hadn't seen in a quarter-century, Rob made it very easy to simply pick up where we left off.
Then one night in October, fuming from some political idiocy I had seen on Facebook from what I thought were better-thinking friends, I reached out to my other local shipmate, Orlando. I wanted to chat about the state of American politics with Orlando since he thinks like I do. Orlando suggested we meet at a dive bar near his home. I agreed and drove out to the boonies way north of Raleigh to the bar near where he lives.
As I rounded the corner to the tables, I saw Orlando was there with Rob. The two lived within spitting distance of each other and occasionally got together. Though I hadn't invited Rob I was overjoyed to see him and the plans for the discussion went straight out the window. Instead, old sea stories were shared again, injuries and illnesses were compared, and smiles more fit for twentysomethings appeared again on our faces.
It seemed like those decades in-between had simply vanished and we were all kids again. Especially for Rob. Cancer by then had consumed a lot of Rob's body but his smile never left his face. Last call arrived early (it was a weeknight) and we said our goodbyes, snapping a few photos to capture the moment. Rob was exhausted (and almost certainly in great pain) yet kept smiling and hung in there til the last. I had no idea it would be the last time I would see him.
Rob died on December 17th, surrounded by his family. He was just 48 years old. A great procession of firetrucks led to his funeral at Providence Baptist Church last Saturday and three of his Elliot shipmates were in attendance: Orlando; myself; and Jaime Lanaro, one of his engineering buddies. Many more offered their condolences.
Fair winds and following seas, GSE2 Rob Nordman. Until we meet again, shipmate.