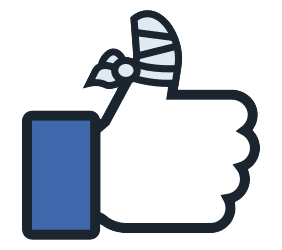 I was in need of wheelbarrows for a company project two weeks ago, so I pulled up the webpage for the Lowe's hardware store on my work computer and perused their offerings. A day later, just like magic, Facebook presented me with a Facebook ad from Lowe's featuring the same brand of wheelbarrows I looked at! The social media company made the connection between my work computer and my personal phone, even though I was not logged into Facebook on my work computer when I made the search. Apparently I had left some Facebook cookies behind on my work computer and Lowe's webpage uses Facebook integrations to read those cookies.
Creepy? Perhaps for some, but at least I can understand how this magic was done. I might not necessarily like Lowe's sharing my searches with Facebook but I understand how and why it happened. I chalk this up to good, clean, targeted advertising. It's fair game.
But there's apparently another, more nefarious kind of targeted advertising done by Facebook, whether or not they care to admit it. A friend had lunch with a colleague yesterday and they were waiting for their meals when his colleague casually mentioned that his car was in need of a new ignition coil. Upon returning to his office, my friend checked Facebook and was astounded to find a Facebook ad for an ignition coil!
What are the odds of this happening by chance? I mean, I know that a recent story on this by Digg has pointed to the Baader-Meinhof phenomenon as a possible explanation. This theory might apply to more common phrases or objects, like cat food, but ignition coils? How often does anyone ever utter the words "ignition coil" in their lifetime? Saying I hear it maybe once every ten years would be generous. It's pretty damn uncommon phrase.

My friend insists that he never searched for ignition coils, typed it in, or did anything active that would've drawn the ad to him. He also was not on any WiFi networks at the restaurant and had no other overt ties to his colleague and their conversation. While it may be possible his colleague Googled it at the restaurant my friend doesn't think so, and certainly he didn't use my friend's phone to do it. The odds against this being coincidence are simply
staggering.
I've seen the video of the couple who talked about dog food and summoned dog food ads to their Facebook page. That's interesting to be sure, but I don't know these people the way I know my friend. I can certainly vouch for my friend's honesty.
The Facebook app has been banned from my phone since I caught it using the photos on my phone that I didn't share to send me ads. That was too creepy for me, but it appears that listening in on what people say now feeds the social media giant's insatiable appetite to know everything about you.
Are you frightened yet?