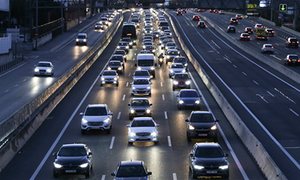 Madrid's city council has implemented restrictions on cars in an effort to combat persistent smog. While battling smog is a good thing, the measure does not restrict mopeds and motorcycles, which cause more smog than cars do and seem to me to be far more prevalent in the city.
Madrid has ordered half of most private cars off the roads on Thursday to tackle worsening air pollution, a first in Spain.

The restrictions will operate between 6.30am and 9pm. The city council said in a statement: "vehicles with even-number registration plates will be allowed to drive around on even-number days and cars with odd-number registration plates on odd-number days."

The measure is activated when levels of harmful nitrogen dioxide in the atmosphere go above 200 microgrammes per cubic metre in at least two measuring stations for two days running, and if the air is unlikely to clear imminently.
Source: Madrid bans half of cars from roads to fight air pollution | World news | The Guardian