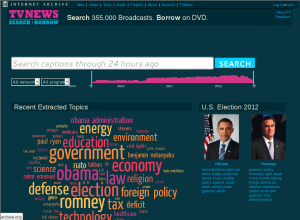 For a while now I've wanted to build a search engine that would index TV shows by the shows' closed-captioning transcript. Now I don't have to, because the Internet Archive (www.archive.org) has built it for me!
The Internet Archives TV News Search & Borrow is amazing! It's a catalog of news video which is searchable by keyword. Now anyone can do the video research that the wizards to on shows like The Daily Show do, right from their own desks. Obama made a speech about indefinite detention? Find it in seconds. Want to see Romney mixing up Randy Owens of Alabama with Lynard Skynard? A few clicks and it's in front of you.
Give it a try and see for yourselves. It's addicting.
Today the Internet Archive launches TV News Search & Borrow. This service is designed to help engaged citizens better understand the issues and candidates in the 2012 U.S. elections by allowing them to search closed captioning transcripts to borrow relevant television news programs.

The Internet Archive works to preserve the published works of humankind. Inspired by Vanderbilt University's Television News Archive project, the Internet Archive collects and preserves television news. Like library collections of books and newspapers, this accessible archive of TV news enables anyone to reference and compare statements from this influential medium.
via Launch of TV News Search & Borrow with 350,000 Broadcasts | Internet Archive Blogs.