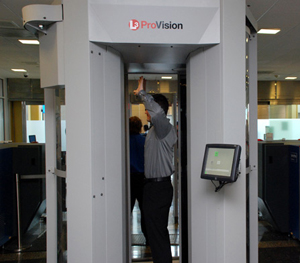 I made my first trip through the porno scanner at RDU's Terminal A. Didn't quite mean to, but I didn't look up from my rush to get through security to realize in time why the line I chose was so short. Almost all the other travelers were choosing to use the metal detector but I failed to notice until my bags were on their way through the X-ray.
I stood on the mat as instructed as the TSA guy said "and your pockets are completely empty, right?"
"Yes," I said, absent-mindedly.
"Do you have a belt?"
"Yes, I do."

"You'll have to put that through the X-ray."
I step back from the porno-scanner, remove my belt, put it in a white plastic bowl, and wait until the belt starts moving again so I can feed the X-ray beast. Then, back into porno scanner.
"You're pockets are completely empty, right?" I was asked.
"Yes."
Whoosh. The scanner made a quiet, 360-degree scan. I was asked to step out, where a very nice grandmotherly TSA agent asked me to wait until the all-clear was radioed in.
A second later, the TSA guy frowned. "Do you have a wallet?"
Er, yes I did. I'm not used to removing my wallet, for crying out loud. I forked it over for another agent to pick up and walk through the X-ray on my behalf. More waiting.
The male TSA agent showed me his gloves. "I'm going to use the back of my hands to pat down the back of your buttocks," he said. "See? Just the back of my hands." I could tell he didn't particularly enjoy this part of his job. A few quick pats and he sent me on my way.
Having flown through many airports, I've always been impressed with how professional and polite RDU airport's TSA team has been. I think they're good people, I really do. Having such a nice and polite team working with our travelers makes people appreciate the wonderful place we live.
That said, though, my trip through the porno scanner took three or four times as long to complete as going through the metal detector. Notwithstanding all of the privacy issues, the process was abysmally slow. Although the line for the metal detector was much longer, I'm guessing I would have cleared security sooner had I chosen that line.
It seems the porno scanner is one thing the flying public clearly does not like. It's a shame that flying has come to this.