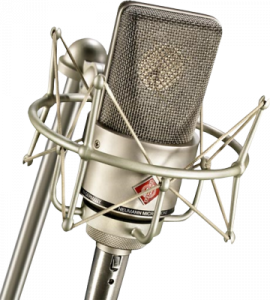 For the past few holiday seasons I've been saying I would create a CD of me singing Christmas songs but I've never gotten it done. I began this season determined to do it. After considering inviting a friend to accompany me on piano, I decided to go a more polished route and use some professional musicians.
Recalling my early job as a recording engineer at the karaoke-like Sing-A-Song Recording Studios, I searched online for some vocalless tracks I could buy. Finding just what I needed at Singray Digital's The Karaoke Channel, I purchased a dozen or so tracks and tried mixing my voice in with them.

You know what? Singing is hard. Or I should say singing properly is hard. I've been singing around the house all my life but it's taught me bad habits. For instance, my breathing control is abysmal. Trying to sustain a note for any proper length is almost out of reach to me at this stage. And breathing control makes up more than half the performance. I've forgotten how to use my diaphragm.
I'm also suffering from substandard equipment. The Blue Snowball USB microphone I'm using isn't a bad mike: Roger McGuinn uses one at the Folk Den. However, I can't get the level right on mine. The mike needs amplification that it apparently isn't getting from my Ubuntu Linux laptop. What results is audio that's paradoxically at a low level but still on the edge of clipping, all because I'm holding the mike up so close to my mouth.
Then there's the issue with my recording software. I've been using Audacity for years but rarely have I tried to record multiple tracks with it. It could be an issue with this Dell laptop I'm using, but I got frequent latency errors when I started recording tonight. After switching the output Audacity was tracking from ALSA to OSS, the latency issues largely vanished. Now I can record more than a split-second before the recording session locks up. I also haven't hit on the right combination of echo, compression, and amplification I need to add to my vocal.
In short, there's more to singing than not flubbing the lyrics. I hope I can polish this up enough to make it worth listening to. It's turning out to be a lot more challenging than I first anticipated. I've got a long way to go before I become the new Andy Williams.