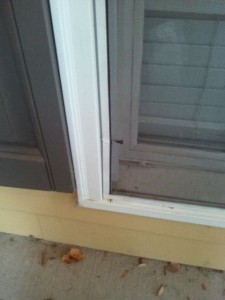 No sooner had I put the finishing touches on my Asterisk alarm script that it got put to use on a real break-in attempt! I stared in disbelief when an actual alarm message came in, thinking that perhaps it was a test message that had only now gotten delivered. When I saw that the alarm type wasn't one I was using to test my script, I called RPD dispatchers. I then scrambled to find my neighbors' phone numbers to confirm what was happening.
The break-in attempt was unsuccessful as the alarm sounded as soon as the guy pried open the window. He fled, but not before two of my neighbors caught a glimpse of him. Police arrived, searched the house, and determined that no one had been inside. They secured the window and rearmed the system. My neighbors have since offered to secure the window themselves.
The funny thing is that I was literally testing the system at 10 AM this morning. When the real alarm came in, Kelly called me right after our alarm called.
"How many times today is our house going to be broken into?," she asked, jokingly.
"Uh, honey? That was a real alarm."
The police have plenty of clues about the perpetrator. He's a white guy with a similar build as me, who was riding a bike and wearing a bike helmet. He took off but I would guess that it won't be long before he's apprehended.
I'm glad I found out about it five seconds after it happened!
Update 27 Nov: At least six other homes in the area were broken into or attempted yesterday. At one home, the intruder actually took a moment to cook himself some waffles, topping them off with honey. I'm really not sure what that says about the burglar.