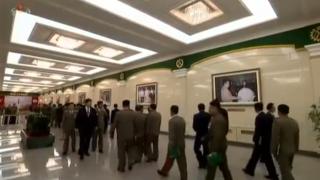 Remarkable. I've long suspected that North Korea has always been further along with its nuclear capability than the rest of the world realizes. Could this photograph be proof, or is this another case of NK "accidentally" exposing information to keep us all guessing?
On a related note, I'm fascinated with North Korea.
North Korean TV footage of an arms and munitions industry conference appears to show the country's former leader Kim Jong-il inspecting one of the country's first ever atomic bombs.

A 30-minute bulletin showing the 12 December conference in the capital Pyongyang has North Korea watchers agog at the picture's appearance in the conference hall.

The photograph, never before seen in the West, is visible for only a few seconds as the camera sets the scene for the industry conference, attended by Supreme Leader Kim Jong-un, the son of the late Kim Jong-il. It hangs among others showing North Korea's "achievements" in arms production, alongside scale models of ballistic missiles.Because of its fleeting appearance from a distance, experts are holding fire on a positive identification of the device as an atomic weapon. But the photograph has notable similarities to recent photographs of Kim Jong-un inspecting the country's first (claimed) hydrogen bomb.
Source: North Korean TV appears to show early 'A-bomb photo' – BBC News