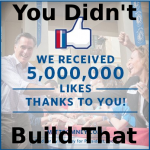 I found this tweet today that raised my eyebrows:
Britt Marsh
@designlessthts

the facebook says that two of my gay friends "like" mitt romney. I'm gonna hope that was some fluke. now I really want to puke even more.

Reply Retweet Favorite
9:21 AM – 27 Sep 12 ·
Could this be more Hacked by Mitt Romney hijinks?