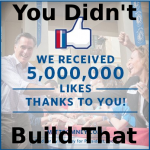 Inside Facebook points to Romney's Facebook ad campaign as the reason Romney's page has gained so many likes. Left unexplored by Inside Facebook are the widespread reports that many of Romney's Facebook page fans were put there without their permission. It's one thing if Romney wants to build a social following by earning fans, it's another when he cheats by hacking others' Facebook accounts.
Republican candidate Mitt Romney is leading President Barack Obama in Facebook engagement and new Likes, in part because of a strong social ad campaign that takes advantage of the latest opportunities on Facebook.
via Does Romney have a better Facebook strategy than Obama?.